GHOSTBOX COWBOY

2018 / 98 minutes / Feature Narrative / John Maringouin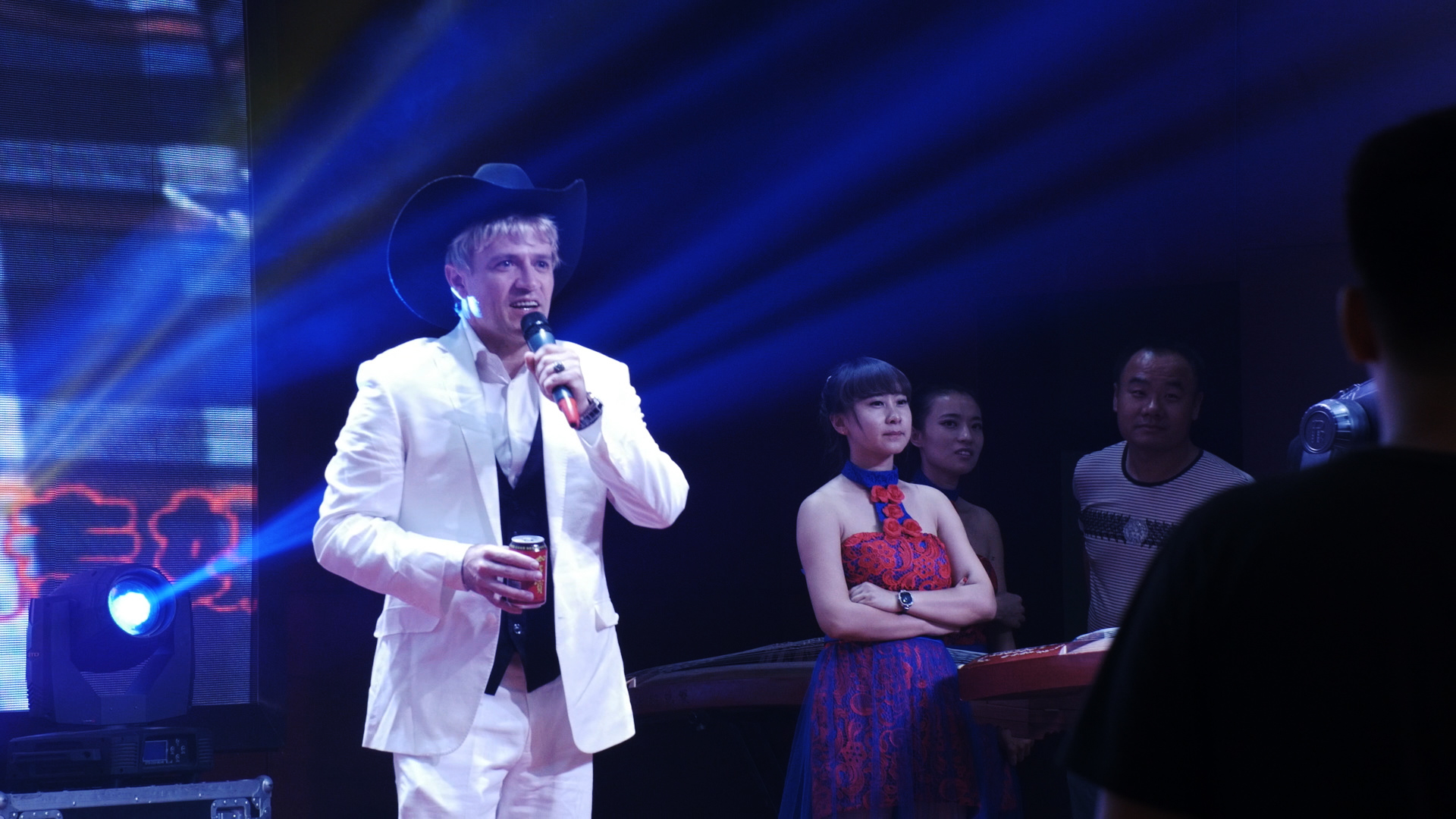 Produced in Association with
Lightshow Creative
SYNOPSIS

A dullard Texas entrepreneur reinvents himself as a cowboy in China's tech wild west, but finds himself at the mercy of corrupt American expats looking to reinvent him once more.
ABOUT
Ghostbox Cowboy, from filmmaker John Maringouin, is a cinematic adventure like no other -- the first U.S narrative feature shot entirely in one of the world's most secretive and essential places: Chinese Tech Manufacturing.
From MUBI.com's Uncas Blythe:
"I wonder. Do people really understand what crazed Herzogian scheme it is to shoot a film unauthorized and guerrilla style on tourist visas in China? It was mad enough when Jia Zhangke and his generation did it, but this is in some ways beyond that. The film is the first fiction feature from John Maringouin, known as a formally and sonically experimental documentarian.
Ghostbox Cowboy
is a montage film, a film very much created in the edit, but that's not to say that Maringouin isn't a good hunter or on-the-fly composer of material, because there are parts of it that are as elemental in their poetic surrealism as anything I've ever seen. And he's interested in subjects that produce some sort of unfamiliar, queasy vertigo, either ideological or interpersonal. I have to admire this fearlessness. Because it is faithful and true to its fragments,
Ghostbox Cowboy
is a film that needs to be post-mise en scène. Increasingly, mise en scène feels too formed, too inadequate for liquid modernity. Among other things, it's a film about the normally esoteric process of creating what economists and Starbucks hustlers call a value chain in a global frame. This is a rather skittish thing to capture. The ethnographer Anna Lowenhaupt Tsing, in her 2015 book,
The Mushroom at the End of the World
, spends almost 300 pages doing this same thing for matsutake. And I don't think a film has shown this particular aspect of it—that this process is about creating and abandoning and creating again fictions out of people and objects. In other words, the process of creating a value chain is self-reflexive; not that different from a filmmaker making a documentary. In this way, even though it features two "name" professionals, Robert Longstreet and David Zellner,
Ghostbox Cowboy
is a collective work of ethnofiction.
The film is broken roughly into two halves. The first part is like a hybrid of the Olivier Assayas of
demonlover
and
Boarding Gate
and Wim Wenders'
The American Friend
, in other words a DeLillo-esque film about the dangerous schemes, languages, and sociologies of globalized capital. This is the polyphonic part of the story. That's the "sexy" part of the movie. This half is very good, and Soderberghian, but it's not as interesting, searching and epiphanic as what comes in the second half.
Jimmy Van Horn has taken the last of his money, $40,000 in crypto-currency, and come to China to bet it all on a prototype of a fake electronic dowsing rod that he calls Ghostr. This box is supposed to help the living communicate with the dead, and Van Horn believes he can, with the help of Chinese venture capital, unleash it on the Chinese market and sit back and bathe in money. It's a sensible but naive hustle, a globalized version of shark tank. But he's underestimated the sharks, who have a razor-edged familiarity with American weaknesses, and with a cruel slowness they banquet on him, taking his intellectual property, his cash, his labor, and eventually and more mysteriously his sense of direction and selfhood. As he gets schooled, Van Horn's sentimental education is a descent into a nowhereland. What might have been an artied-up genre film now takes the turn-off to the existential oblique, the same poetic surfaced territory as the Antonioni of
Red Desert
and
The Passenger
. A surfing of surfaces."
CREDITS
DIRECTED BY // John Maringouin

WRITTEN BY // John Maringouin

STORY BY // John Maringouin, David Zellner, Specialist

EXECUTIVE PRODUCERS // David Zellner, Matthew Whatley

PRODUCED BY // Molly Lynch, George Rush, John Montague, John Maringouin, Sean Gillane, Billy Peterson

CO-PRODUCER // Lily Fang, Wang Ke

ASSOCIATE PRODUCER // Herb Dishman, Douglas Robbins

STORY PRODUCER // Avi Zev Weider

STARRING //
David Zellner as Jimmy VanHorn
Robert Longstreet as Bob
Specialist as Himself
J.R. Cazet as Johnny Mai Thai
Carrie Gege Zhang as Herself
Steve Musselman as Himself
Tax Ninja as Himself
Angelina Liu as Joanna
Nicholas Grgich as Ronnie
Nan Lin as Donny
Alan Chu as Venture Capitalist
Christopher Fung as Venture Capitalist Jay
Larry Kitagawa as Venture Capitalist
Li Li as Event Planner
John Montague as Phantom White Guy
Billy Peterson as Foster Papadopoulis

MUSIC COMPOSED BY // Casey Wayne McAllister

DIRECTOR OF PHOTOGRAPHY // John Maringouin, Justin Donais, Nate Slevin

ASSISTANT CAMERA // Ivo Maringouin, Keith Schwalenberg

EDITED BY // John Maringouin, Sean Gillane

EDITORIAL CONSULTANT // Curtiss Clayton

ADDITIONAL EDITING // Molly Lynch, Crockett Doob, Pete Lee

CASTING BY // Lily Fang, Wang Ke, Molly Lynch

PRODUCTION DESIGN BY // Molly Lynch

SET DECORATION BY // Keri Shewmaker

PROPS // Natalina Simi

DIGITAL ARTIST // The Son of a Saint

COSTUME DESIGN BY // Molly Lynch

PRODUCTION MANAGEMENT BY // Molly Lynch, Lily Fang, Wang Ke

LOCATION MANAGEMENT BY // Lily Fang [Shenzhen], John Cedric McGovern [Ordos], Gareth Johnson [Ordos]

VISUAL EFFECTS BY // Capsaicinco

COMPOSITORS // Sean Gillane, Ken Fisk, Tim Wilson

ADDITIONAL COLORIST // Harry Locke IV

PRODUCTION SOUND // Avi Zev Weider, Dan Jaspar

SOUND DESIGN BY // Sean Gillane, John Maringouin, Leslie Shatz

DIALOGUE EDITING BY // Miik Dinko

RE-RECORDING MIXER // Leslie Shatz

ADDITIONAL RE-RECORDING MIXER // Dave Nelson

MUSIC SUPERVISOR // Chloe Raynes


PAYROLL COORDINATOR // Fanny Romero